Filmmakers Will Become Hackers Once Again
An adaptation of this piece was posted today in Mashable.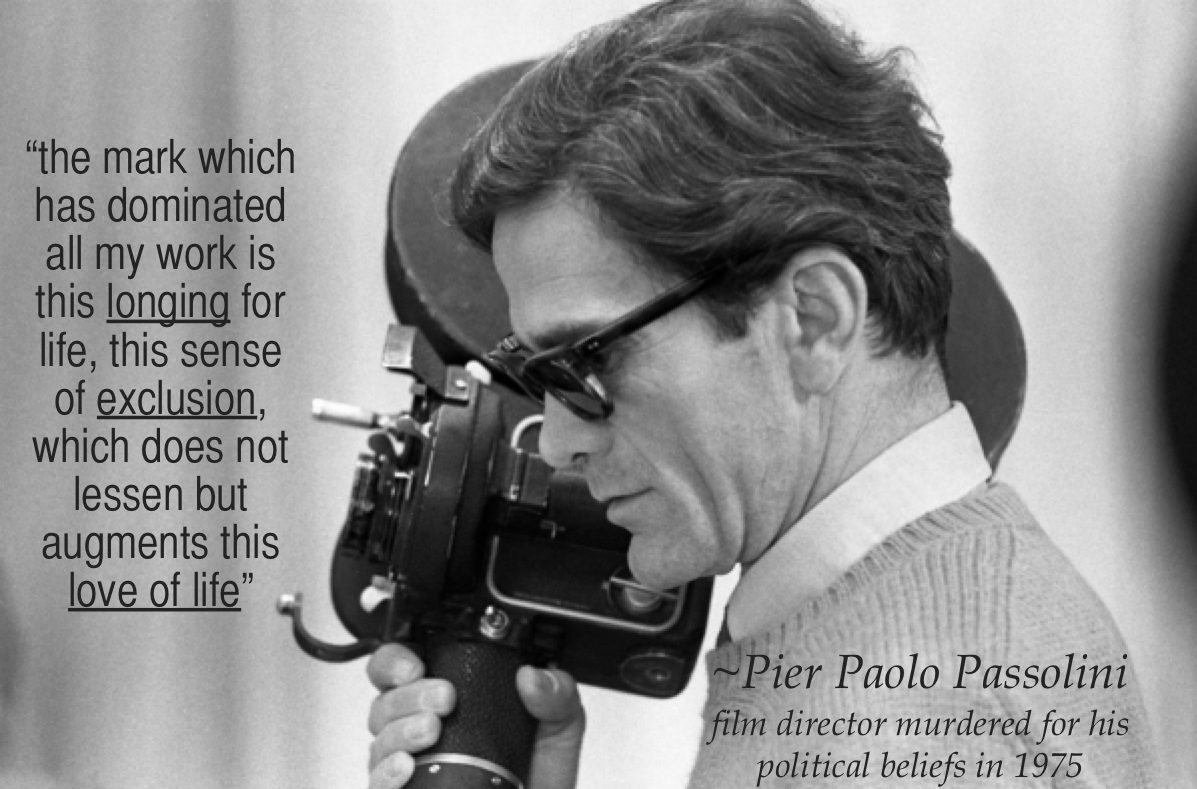 When Seth MacFarlane takes the stage at the Dolby Theatre on February 24th to host the Academy Awards, it will be 84 years after the first such ceremony in 1929 and 44 days after the death of Infogami cofounder and anti-Hollywood / anti-SOPA activist Aaron Swartz.
I love films. My father, an opera singer, taught me at an early age to appreciate the dramatic arts, and I was a theatre actor in my youth. Some of my greatest heroes in life are filmmakers like Pasolini, who gave so much of themselves to their work. I'm an indie film director, and I've been on the other side of the spectrum in big budget filmmaking. I should be working in Hollywood today—but I'm not.
The Early Hackers of Hollywood
There was once a time when Hollywood was the wild west. In the early 1900s, a rogue group of artists, seeking to free themselves from the expensive yoke of Thomas Edison's film patents, left the developed heart of the American Atlantic to settle in remote Los Angeles. These renegades would go on to form the foundations of Hollywood as well as herald an era of unprecedented creative experimentation. In many ways, these early filmmakers were the spiritual siblings of today's hackers. However, watching the endless blush of red carpet, the matching Louboutins, and the immaculate costumes that each cost more than what many entrepreneurs bootstrap their startup with, viewers of this year's Academy Awards will find it difficult to recognize any trace of this early Hollywood. But just as the hackers of today are disrupting everything from corporate America to venture capital, today's indie filmmakers have the opportunity to unsettle Hollywood as we know it.
Currently, two distinct forces in content production are transforming film, television and the other industries that utilize the moving picture. The first is the decreasing cost to create video, a trend that has become so pronounced recently that there are comparisons to Gordon Moore's 1965 observation about components in integrated circuits doubling every year. The visual quality of amateur video is improving rapidly, aided by cameras such as the Canon 5D Mark III ($3,499) which lend the common creative some of the visual power that would have cost several orders of magnitude more in bygone years. The second major force is at the other end of the spectrum in cutting-edge, high-cost innovation, marked in the past by technological developments such as synchronized sound (first exemplified in a feature-length film by Don Juan, 1926), Technicolor (Becky Sharpe, 1935), 3D animation (Toy Story, 1995) and countless others. The first disruption is a tool for the masses, the second a tool for the elect. Both have interesting implications for the established order.
Hollywood's Sunset?
The declining cost per minute of producing video is rapidly upending the establishment. I was recently conversing with a veteran media executive who remarked: "I never thought in my entire career that I would say it is a good time to be in content. But now, I think it is a good time to be in content." In many ways, this hearkens back to the freedom extant in the foundation of the industry over a hundred years ago. At the dawn of the new medium, both the artist (Georges Méliès) and the technologist (Thomas Edison) rejoiced—the former at the newfound creative freedom bestowed upon them, unfettered by modern bureaucracy, and the latter by the economic rents to be captured through endless patents. Pauline Kael had this to say about the early days of cinema:
"When Méliès photographed his magic shows, when D.W. Griffith recreated the Civil War or imagined the fall of Babylon… they were just beginning to tap the infinite possibilities of movies to explore, to record, to dramatize… movies were so inexpensive that they could be hailed as the great democratic art form. Then, as businessmen gained control of the medium, it became almost impossibly difficult for the artists to try anything new. Movies became in one way or another remakes of earlier movies, and until inexpensive pictures from abroad began to attract large audiences the general public probably believed what the big studios advertised—that great movies meant big stars, best-seller stories, expensive production. The infinite variety of what was possible on film was almost forgotten, along with the pioneers, and many of those who loved movies lost some of their own vision. They began to ask what cinema 'really' was, as if ideal cinema were some pre-ëxistent entity that had to be discovered; like Platonists turned archeologists, they tried to unearth the true essence of cinema."
Writing in 1968, Kael's sentiments about cinema's aesthetic crisis sound as familiar to the modern ear as if it were written yesterday.
And yet, a disruptive startup that can capture and combine the most excellent cultural elements of both Hollywood and Silicon Valley is rare. These two crown jewels of American ingenuity—proud of their distinct achievements and distinct ways of life—do not co-exist well. Last year's vitriol surrounding SOPA and PIPA is sufficient evidence of this. One of my friends at a large technology accelerator recently recounted to me the number of companies he has seen take on this Sisyphean task and fail. Regarding the success of a startup's founding team, "it is better to have a team of two dumb jocks," he said, "than to have a dumb jock and a smart nerd who have nothing in common." He added that the problem was inherent in culture, some of which was encapsulated in the "pay me now" mentality of Hollywood versus the "pay me later" mentality of Silicon Valley.
The Coming Golden Age of the Indie Genius
In any art form, the curation function has always played a critical role. Living writers always find it hard to make a name for themselves because society wisely relies on the passage of time to decide which works are relevant and which can be discarded as ephemeral period pieces. Filmmakers today are more like the painters of the Renaissance, who relied on aristocratic patronage to make their living. Knowledge compounds, as any ambitious hacker who shuns corporate America knows today.[1] A Renaissance painter thus needed glory in this life to be remembered in the next (a fact not true of our best writers), for without the exponential growth bestowed by the financial patronage of aristocrats, their natural genius would have languished. The hermetic Thoreau could craft a masterpiece alone in the woods, but does anyone doubt the critical role of the Medicis and the Popes in the painting of the Capella Sistina?
Filmmakers have always been spiritually closer to hackers than the businessmen who run Hollywood. One of my most poignant memories of working on a big budget studio film was one day when I asked the film's director to recount his meeting with our studio execs. He proceeded to grab a handful of coins nearby and pretended to vomit them out of his mouth—the coins scattering grotesquely across the table. For now, the most talented filmmakers are beholden to the aristocratic patronage of the studios, but eventually, cheaper production costs and unlimited digital distribution have the potential to usher in a new Golden Era for the singular creative genius in video. While Cervantes was the sole writer of Don Quixote, the French New Wave had to invent Auteur Theory to have a common language around what constituted film authorship. A modern Hollywood film cannot come into being without the labor of thousands. What happens, then, as films become as carelessly cheap as the writing of fiction? This admittedly ambitious asymptote has intriguing cultural implications, but for now, Hollywood sneers at the iPhone cat videos that plague YouTube.
This story has been written before. The broadcast networks held an oligopoly on television for some time, and when the premium cable channels first emerged, they were disparaged. A media executive I know compared our time with the early days of cable, citing the dubbed Jacque Cousteau videos (Discovery Channel), late night sex movies (HBO) and hurling (ESPN) that formed the content backbone of the early pioneers. At first scorned, the established order hastened to purchase these channels as content improved and audiences swelled.
Curation is King
Regardless of the many motley forms the future can take, curation and distribution will continue to be key. On this front, a titanic battle is currently being waged that includes the likes of Comcast, the Hollywood majors, News Corp, HBO (Time Warner), Apple, Google and many others. Google's ambitious goal is to be on half a billion SmartTVs by 2015, and consumers and pundits alike eagerly await Apple's much-promised television. The Asimovian vision of our technorati presumes the ascendance of hardware married with the internet. In the future, the narrative goes, we should be able to walk into our homes and say "Siri, I'm sad," and Siri would light up our HD television with the latest funny viral video, or give us the most recent episode of our favorite sitcom. Instead of having to flip through channels, Apple would give us a stream of content catered to our tastes that we could change at a whim. "Siri, next. Siri, next. Siri, I want to watch the fifth episode of the first season of Game of Thrones." In this world, the channel disappears, and the consumer ceases to differentiate between content that was streamed from YouTube versus content from primetime television.
The retort of the existing power players to such fanciful dreams is strong. Comcast argues that it still owns the coaxial cables, which it can use to throttle content delivered to a future iTV. The rise of 4G LTE will hardly put a dent in this fortress of pipes, as spectrum deficits loom large for the foreseeable future. The Hollywood majors and HBO still control the best content, and if the democratization of media has taught us anything, it is that blockbuster content (whether movies or TV shows) should play an increasingly more powerful role in the psyche of the global population. Americans now watch 33 hours of video per week, and in a world of free choice, it would make sense that a given person would allocate the large part of their time watching the "best" content available to them. With HBO serving as taste maker and the premier destination of scripted content for many of its over 80 million subscribers, it has the unique ability to produce high quality content at a lower cost per hour of subscriber viewership than others. HBO's machine generates ~$5 billion in revenue, and the vast majority of that relies on the pipes of Comcast and its ilk, so what incentive do they have of sacrificing their golden goose? Reports of the death of the blockbuster are greatly exaggerated, and the ascendency of the long tail is premature. Disrupting Hollywood and the existing power players is thus a more difficult quandary than at first blush.
Hacker's Revenge
Nevertheless, brilliant young hackers have solved harder theoretical problems than these by the time they finish grade school, and some of them are now dedicating themselves to turning the disruption of Hollywood from theory to reality.
On January 11, 2013, Aaron Swartz was found dead in his Brooklyn apartment in an apparent suicide. For months, he had been persecuted by the Federal Government for hacking JSTOR via MIT, an act rooted in his principled belief in Open Access. Since 2010, he had helped spearhead the fight against Hollywood to stop the measures that would eventually become SOPA and PIPA, a battle in which he lived to tell the tale. In both conflicts, his fundamental opponents were the perverse influences behind today's copyright laws. Hollywood, the principal patron behind SOPA/PIPA, was first formed over a century ago because a few rogue artists wanted to get as far away as possible from the constraining influence of Edison's patents. Dearest Hollywood, the irony is not lost on us, and know this: hackers and indie filmmakers alike are coming after you. Laugh at us, vilify us, persecute us with your mighty resources—it doesn't matter. Because in the end, we're going to win.
[1] Stephen Cohen, co-founder of Palantir, said it well: "We tend to massively underestimate the compounding returns of intelligence. As humans, we need to solve big problems. If you graduate Stanford at 22 and Google recruits you, you'll work a 9-to-5. It's probably more like an 11-to-3 in terms of hard work. They'll pay well. It's relaxing. But what they are actually doing is paying you to accept a much lower intellectual growth rate. When you recognize that intelligence is compounding, the cost of that missing long-term compounding is enormous."
Share

Comments
comments